As the final whistle blew at the Arena Corinthians on Sunday evening the enveloping dusk and autumnal chill in the air was broken by a warm, fulsome cheer of relief. Corinthians had held out to take a 3-2 victory over local rivals São Paulo and, at least until Grêmio play on Monday evening, go three points clear at the top of Série A.
To have 16 points after six games of this rapidly developing Brasileirão campaign was beyond the expectations of even the most deluded corintiano before the season had begun. Granted they had seen their side lift the Campeonato Paulista title in May, but it is common knowledge that a state title does not guarantee a successful campaign in the national competition.
This fantastic start has not been down to displays of individual brilliance, there are few in the Corinthians squad who could provide that, but to the organisation and collective spirit of Fábio Carille's side. A strong collective can, however, provide a platform for individuals to perform to their maximum and on Sunday there was a crystal clear example of exactly that.
Ángel Romero, the winger who has oft been the target for piss-taking and fun-making, even from his own fans, for his perceived lack of technical ability, was magisterial. His display, a mixture of dogged persistence and moments of inspiration, was perhaps enough to irreversibly cement his place as a coringão cult hero.
The Paraguayan's night was summed up by one moment early in the second half. A long, looping clearance went up into the air and fell rapidly towards him. At another point in time, lower on confidence as he was for much of last season, Romero would, to coin a phrase, have trapped it further than I could kick it.
Not now. Self belief coursing through his veins, he plucked it from the sky with his right boot, caressing the ball into a perfect state of inertia right on top of the dead ball line. As the São Paulo players retreated in front of him he bent over and gestured towards the ball as if to say to his doubters, 'this is what I can do.' The stadium reacted with a cheer that's volume was only surpassed by the three Corinthians goals.
About an hour earlier that very same man had opened the scoring. Corinthians completely dominated the opening exchanges and after just six minutes their superiority was rewarded. Romero ran on to a deliciously chipped Marquinhos Gabriel through-ball, rounded Renan Ribeiro with his first touch and tucked it into the gaping São Paulo net with his second.
São Paulo manager Rogério Ceni had sent his team onto the pitch in a 3-5-2 formation, seemingly in an effort to deny Corinthians space in central areas, but it was horribly ineffective, with his players second to every ball, and it left the wing-backs exposed two-on-one with the home side's wingers and advancing full-backs.
The visitors were, however, gifted an equaliser by some horrible Corinthians defending just over ten minutes after the opener. A hopeful free-kick was floated in and Guilherme Arana, distracted by his own vain appeals for offside, failed to accompany front-man Gilberto who nodded the ball into the top corner. It was São Paulo's first touch of the ball inside the Corinthians penalty area.
From there São Paulo recovered their composure, changing to a 4-4-2 which gave them more resilience down the sides of the pitch and a greater threat going forward. For the 15-minute block that followed it was balanced, if fairly uneventful.
As the interval drew closer, though, Corinthians once more started to encroach on the opposition 18-yard box. Romero, now moved across to the right, was still threatening and was only denied another opportunity to shoot after a desperate last-ditch tackle by tricolor centre-half Maicon.
Shortly thereafter Maicon lost the ball to Jô with his team vulnerably, perhaps naïvely, positioned in the Corinthians half. Jô played a one-two with Romero and was away. The São Paulo defence couldn't catch the ex-Manchester City man and his shot was palmed out to the onrushing midfielder Gabriel who had the simple task of putting his side back in the lead.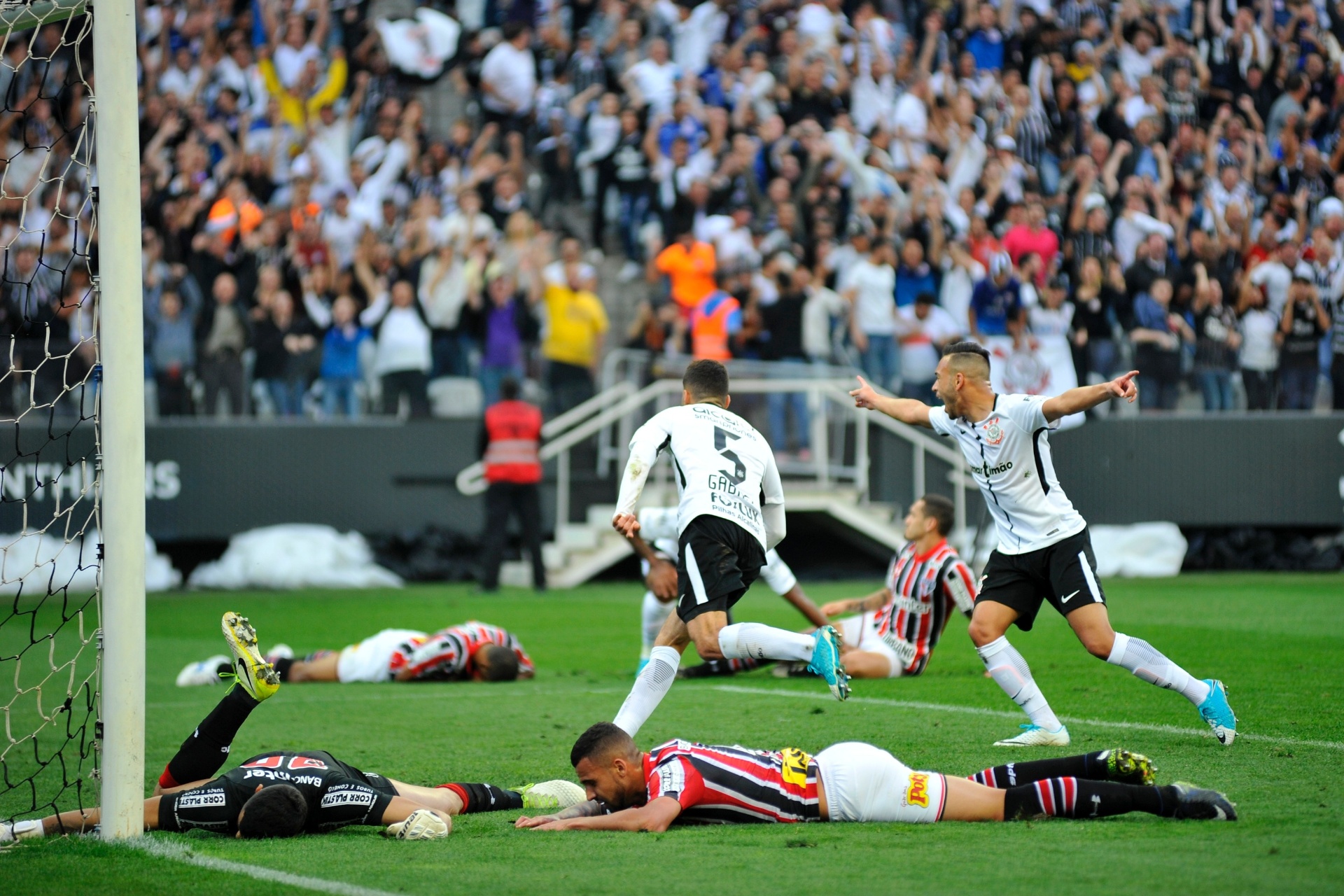 At the break São Paulo cemented their decision to go to a back four, bringing on Bruno, a specialist right-back, in place of right centre-back Lucão. It had the desired effect of making the away side more offensive but the two resolute banks of four they encountered in front of Cássio's goal still proved incredibly difficult to infiltrate.
On the hour mark Corinthians made the most of an incisive attack to win a penalty and inflate their advantage. A beautiful exchange of passes, first between Romero and Jadson, and then between Romero and Jô, put the centre-forward through. He was brought down by Douglas and the spot-kick was dispatched by the otherwise fairly quiet Jadson.
From there Corinthians were more than happy to fall back into shape and soak up São Paulo pressure whilst looking to nick another on the counter. But for some bad decision making from Marquinhos Gabriel in two promising situations they could have extended their lead even further.
As it was, São Paulo eventually forced their way back into the tie seven minutes from time. The entrances of substitutes Wellington Nem and Thomaz gave o tricolor more cutting-edge and even for a well organised side like Corinthians there is only so long you can invite pressure before you finally succumb. Promising young left-back Júnior Tavares latched onto a ball in the area and saw his deflected cross converted from close range by Nem.
In the closing minutes Corinthians realised that they needed to wrest back control if they were going to see the game out and started to exchange passes in the middle of the field. This removed any potential sting from the metaphorical tail and the home side were able to hold out for their fourth consecutive victory, easily the most emotionally significant of the campaign so far.
Winning a derby is always nice, even more so when it sends you clear at the top of the table.
Homophobic chanting
Unfortunately, and rather predictably, the game was marred by the lamentable homophobic chanting that has become an inescapable part of the Corinthians match-day experience. It is intensified when meeting São Paulo, for whom the chants were initially created.
Before the game there were intense cries, from almost all of the 42,000 packed into the arena, of "dessas bichas teremos de ganhar", and goal-kicks were met with loud screams of "bicha". As I have previously written "bicha" is an offensive term used against LGBT people.
Other results and table
Palmeiras 3 – 1 Fluminense
Vasco 2 – 1 Sport
Botafogo 2 – 2 Coritiba
Vitória 2 – 0 Atlético-MG
Ponte Preta 3 – 2 Chapecoense
Avaí 1 -1 Flamengo
Cruzeiro 2 – 0 Atlético-GO
Atlético-PR 0 – 2 Santos
| Classificação | P | J | V | E | D | SG | G | GC | % |
| --- | --- | --- | --- | --- | --- | --- | --- | --- | --- |
| | 16 | 6 | 5 | 1 | 0 | 8 | 13 | 5 | 88.9 |
| | 13 | 6 | 4 | 1 | 1 | 5 | 9 | 4 | 72.2 |
| | 12 | 5 | 4 | 0 | 1 | 8 | 15 | 7 | 80.0 |
| | 10 | 6 | 3 | 1 | 2 | 1 | 11 | 10 | 55.6 |
| | 10 | 6 | 3 | 1 | 2 | 1 | 10 | 9 | 55.6 |
| | 10 | 6 | 3 | 1 | 2 | 1 | 5 | 4 | 55.6 |
| | 10 | 6 | 3 | 1 | 2 | 0 | 11 | 11 | 55.6 |
| | 9 | 5 | 3 | 0 | 2 | 6 | 11 | 5 | 60.0 |
| | 9 | 6 | 3 | 0 | 3 | 3 | 8 | 5 | 50.0 |
| | 9 | 6 | 3 | 0 | 3 | 0 | 6 | 6 | 50.0 |
| | 9 | 6 | 3 | 0 | 3 | -6 | 9 | 15 | 50.0 |
| | 8 | 6 | 2 | 2 | 2 | 0 | 5 | 5 | 44.4 |
| | 7 | 6 | 2 | 1 | 3 | 2 | 7 | 5 | 38.9 |
| | 7 | 6 | 2 | 1 | 3 | -3 | 8 | 11 | 38.9 |
| | 7 | 6 | 1 | 4 | 1 | 1 | 6 | 5 | 38.9 |
| | 6 | 6 | 1 | 3 | 2 | -2 | 5 | 7 | 33.3 |
| | 5 | 6 | 1 | 2 | 3 | -4 | 2 | 6 | 27.8 |
| | 4 | 6 | 1 | 1 | 4 | -3 | 3 | 6 | 22.2 |
| | 3 | 6 | 1 | 0 | 5 | -9 | 4 | 13 | 16.7 |
| | 2 | 6 | 0 | 2 | 4 | -9 | 4 | 13 | 11.1 |