By Joshua Law
"Today I am a calmer, more focussed man. After I joined the church, my life changed."
These are the words Jô uttered in an interview with Brazilian TV channel Record in October last year, shortly before signing a three-year contract with his boyhood club Corinthians, where his career started 14 years ago. The fans of São Paulo's most popular side could, however, have been forgiven for harbouring substantial doubts about the centre-forward's sincerity.
The ex-Manchester City player has for years had a reputation as somewhat of a bon vivant, a man who much preferred expending his energy on the dance-floor than the training pitch, and who drank to excess.
Upon his permanent exit from Manchester City in 2011 he joined Internacional in the Southern Brazilian city of Porto Alegre. He struggled to find form, scoring only six goals in 36 appearances, and under a year later his contract was terminated. He had refused to travel for a Copa Libertadores game in Bolivia and had subsequently disappeared from the team hotel to enjoy the Rio de Janeiro nightlife after an away defeat to Fluminense, he was not worth the trouble for the club.
After his release Jô signed for Atlético Mineiro in Belo Horizonte where he briefly turned back into the player that many know he could be and had a short period of fantastic success. Alongside his on and off-pitch partner in crime, Ronaldinho, as well as Diego Tardelli and Bernard, Jô led Atlético to Copa Libertadores triumph in 2013, with the ex-Everton and CSKA Moscow man finishing as the competition's leading scorer.
His performances led Big Phil Scolari to call him up for the Confederations Cup in 2013, where, despite being back-up to Fred, he managed to play well in his substitute appearances, score twice and effectively secure his place in the squad for the home World Cup in 2014.
This, though, proved to be as chastening an experience for him as it was for the Brazilian nation. Afterwards his form and his behaviour fell off badly and he went over a year without finding the net. During this period he was suspended by his club for missing several training sessions and once again disappearing from the team hotel to go disco dancing.
In 2015 and 2016 he found himself exiled at Saudi Arabia's Al-Shabab and Chinese second division side Jiangsu Suning. With the latter he was again sent packing before the end of his deal owing to his extracurricular activities, the details of which have never been divulged.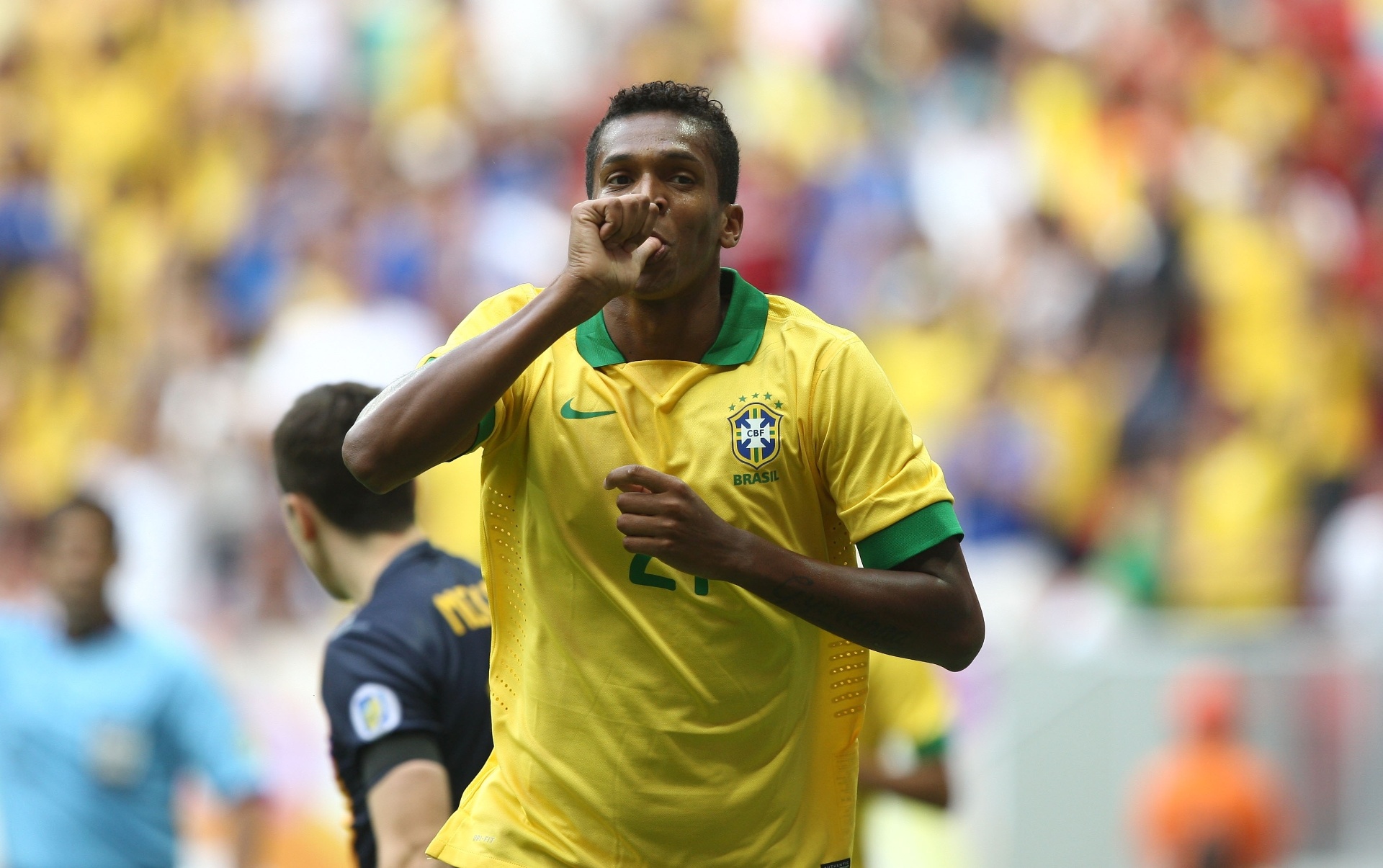 Interestingly, he points to his move from Moscow to the then-new-found riches of Manchester City as the moment his downwards spiral began. "My salary doubled, everything became more accessible," he told SportTV.
Fortunately, though, he realised that he needed to turn things around. Jô went back to live with his parents in São Paulo and at this point found God, joining the increasingly popular Brazilian evangelical church. It appears to have given him a new impetus.
He admitted that at his worst he was dependent on alcohol and has now completely stopped drinking. He also worked hard for several months towards the end of 2016 to get back to his ideal weight, though he couldn't play as he was still technically under contract in China until the end of the year.
The player's father, in an interview with Folha de São Paulo, said he was delighted to see his son back in control of his life and back at Corinthians. "He's come back home", he said, "a home he never should have left."
In his first few appearances of 2017, however, Jô struggled to get back up to speed. In a Campeonato Paulista game against minnows Santo André he had a poor penalty saved as Corinthians lost 2-0 at home and was booed off the pitch after being substituted. Brazilian fans are generally not known for their sympathy or patience and the Corinthians faithful can be particularly quick to come to damning conclusions.
He then spent a few weeks on the bench, watching Timão's only other senior centre-forward, Colin Kazim-Richards, being given the nod ahead of him in several successive games. Jô, though, kept working and kept believing, and it is possible to pinpoint to the exact moment that the momentum swung back in his favour.
It was the home derby against bitter local rivals and reigning Brazilian champions Palmeiras. Kazim-Richards had started the game but had had a limited impact and Corinthians were unfairly down to ten men after a case of mistaken identity led to midfielder Gabriel being sent off. On came Jô.
He was probably sent on to hold the ball up and try to relieve some pressure but a Corinthians counter-attack, Corinthians' only counter-attack, left him one-on-one with the 'keeper. Jô made no mistake and coolly slotted the ball between the onrushing Fernando Prass' legs and into the back of the gaping net.
I was fortunate enough to be there and I can tell you that the stadium absolutely erupted. I'm not sure I've ever seen a crowd go so wild for a goal that has absolutely no bearing on league position or cup progress. The feeling of injustice driven by the refereeing error, combined with the desire to get one over the enemy so soon after their Brasileirão triumph, was an explosive blend.
Since then Corinthians have played four more times against their two other big rivals, São Paulo and Santos, and in each game Jô has come up with a vital goal, securing either a draw or a win. There is surely no better way for a player to endear themselves to the crowd than by scoring meaningful goals in such evocative fixtures. This record has already led to him being dubbed the 'God of Clássicos' in the local media.
In total, he has scored six times and notched two assists in 16 games (including substitute appearances) in the state championship, an excellent record when you consider that Corinthians are a team that relies on its stable defence and scores very few.
Not only that, but he has also been a vital part of his team's build-up play, coming out of the area to receive the ball, into feet or on his head, hold it up and bring his midfielders into play.
This was perfectly demonstrated in the first leg of the Campeonato Paulista final against Ponte Preta. He won the aerial battle for a long free-kick, flicking it on to Ángel Romero before moving into the area, receiving the pass back into feet and playing a beautifully weighted first-touch through-ball for Rodriguinho to score the first in an impressive 3-0 win.
On commentary duty, Casagrande, the Corinthians legend and former Brazil striker, said, "I think Jô is the best reserve for Gabriel Jesus in the Seleção. I would select him." It's a bold statement, but he may, nearly, be right.
Roberto Firmino, despite two fantastic performances in the recent World Cup Qualifiers, is still not well-liked in Brazil. He is not a traditional number 9, a type of player which Brazilians love, and the fact that he has not played a single game in the Brazilian to flight breeds mistrust amongst fans. For the system and style that Tite likes to play, however, he is clearly the best replacement.
After Firmino, though, there is a gap. In fact it is more of a vast, gaping proper-number-9-shaped chasm, which needs to be filled by someone. For the last squad 31-year-old Sport Recife player Diego Souza, who started his career as a central midfielder but has successfully played as a forward for the past few years, was chosen to fill it. There has even been talk of a return for Fred, the pantomime villain of that dismal World Cup failure.
But, as former Brazil centre-back Ricardo Rocha recently pointed out on television, Brazil has not "a single forward with the same characteristics as Jô."
He will not, indeed must not, be Brazil's first or even second choice front man in 2018 if they hope to lift the trophy. But he could be a useful weapon to have sitting on the bench. A big, muscular, aerially capable plan B to use against stubborn teams that refuse to be broken down.
He is also, rather unbelievably, still only 30, and so should be in reasonably good shape come Russia, 15 months from now. He is certainly a better bet than out-and-out goal-poacher Fred, who will be 34 by next summer and does not possess the hold-up play and aerial prowess of Jô.
Tite was at the Arena Corinthians to see Jô score in the derby against Santos and his assistant was present against Ponte Preta for the first leg of the Paulistão final to see the forward's excellent all-round performance. They will certainly have been taking notes.
Brazil have two friendlies in Australia in June and four more World Cup Qualifiers to help Tite decide his final squad for 2018. Don't be surprised if Jô's name is read out when at least one of these three squads is announced.
"I still dream about playing in a World Cup and it being successful", he told SporTV. If he keeps going the way he is on the pitch, and manages to stay on the straight and narrow off it, his dream may just have a little life in it yet.