"I just don't understand why Brazil are still picking him. He doesn't move, he doesn't shoot and he's dragging the team down. I don't know if Brazil should change the system or play Neymar as a false nine, but the fact is that Fred is not the answer for what they are doing now."
Those were the words of Newcastle and England legend Alan Shearer after watching Brazil's first two games of the 2014 World Cup, a 3-1 win over Croatia and a 0-0 draw with Mexico in which Fred was, admittedly, fairly ineffective.
Throughout the tournament he drew a lot of criticism from both the international and the domestic Brazilian sporting press, as well as the Brazilian public. After the 7-1 defeat at the hands of Germany some fans even took to the streets with parking cones on their heads in order to express their thoughts about the forward's mobility.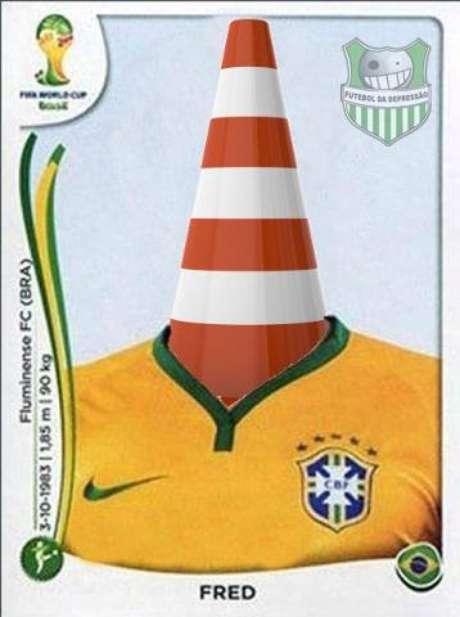 For most of the football-watching public outside Brazil this is probably how they best remember Fred but, as Aristotle once said, one ineffective international tournament does not a bad player make. Just ask Wayne Rooney.
For fans inside Brazil there is a different side to this man's game. In the Brazilian domestic leagues, cups and state championships he has been a consistent goal-machine since his emergence with América Mineiro in 2003. Perhaps never the most mobile player, but always lethal around the six-yard box.
Last year, at the age of 33, he finished as the Brasileirão's top-scorer for the third time in his career (2012,'14 and '16), entering a select group to have achieved this feat. The other three to have done so are Romário, Túlio Maravilha and Dadá Maravilha, all legends of the Brazilian game.
Dadá Maravilha, in an interview with the newspaper O Estado de S. Paulo welcomed Fred to the group and said, "I'm a fan of his. I always repeat what the fans sing in the stadium: 'Fred is going to get you', because he will."
I also recently spoke to ex-Newcastle centre-forward Mirandinha, who bemoaned the lack of instinctive goal-scorers in Brazil, players who are ready to pounce on mistakes by defenders and blunders by goalkeepers. I asked him if there were any at all and he gave me only two names: Neymar and Fred.
Apart from his scoring exploits in the Brazilian top-flight with Cruzeiro, Fluminense and his current club Atlético Mineiro Fred spent a successful four year spell with Lyon in France, winning three French titles and scoring a very respectable 34 goals in 88 Ligue 1 appearances.
And, despite that poor showing in the home World Cup, his overall record of 18 goals in 39 games for Brazil is one of which most players would be extremely envious. He has also won two trophies with the Seleção, the Copa América in 2007 and the Confederations Cup in 2013.
Perhaps Shearer was correct and he wasn't the kind of player that Brazil needed in 2014, but that was a collective failure more than a personal one, and to say that you don't understand why Brazil are picking a player who had scored 9 goals in 11 games for them in 2013 is at best disingenuous.
Fred has won the Brazilian league title on two occasions with Fluminense and, during the second of those campaigns in 2012, was voted the best player in the country, ahead of Neymar, Ronaldinho and Lucas Moura.
He is a lethal finisher, to which his career stats of 323 goals in 526 games attest and people should perhaps look at this record before labelling him immobile and incompetent, of which I myself have been guilty at times. To maintain the record that he has over the period of time that he has is a considerable achievement.
So here's to Fred, one of the Brasileirão's greatest ever goal-scorers.